Top Things To Do In Guanajuato, Mexico
About 1.5 hours from San Miguel De Allende, you will find another colorful city surrounded by a valley of mountains...Guanajuato. This city might be the most picturesque place in all of Mexico. The colorful buildings and its 3,600 alleys make it even better! UNESCO declared the historic city center a World Heritage Site in 1988. We were lucky to be able to spend an entire 8 days in this wonderful city. The following are our recommendations of top things you can not miss in Guanajuato:
VISIT THE MUMMY MUSEUM OR EL MUSEO DE LAS MOMIAS
Although this museum might not be for everyone, Guanajuato is famous for its Mummy Museum and if you don't mind it, it is a total must! You can easily take a 20-minute walk to the mummy museum from the city center and enjoy the views or take a taxi if you want to save yourself the walk. If you are a student bring your student ID since they will give you a student discount. Entrance Fee: Adult $60 MXN ($3.22 USD), Student $40 MXN ($2.15 USD).
It is said that Guanajuato has a weird phenomenon that only occurs in this city. It all began in the 1800's when a cholera outbreak in the city occurred and lead to an influx of deaths and burials. Due to limited cemetery space, decades later the Guanajuato cemetery enacted a tax that family members needed to pay to keep their loved ones buried in the ground. Some families didn't pay and their relatives were dug up. It turns out that Guanajuato's unique geology had created a natural mummification process. Curious visitors wanted to see these "mummies" and cemetery workers began charging for entry. They eventually built a museum to display the mummies, which is a top attraction in Guanajuato today. According to one of the guides at the museum, out of 1,000 bodies that are dug up only 4-5 of them actually become mummies.
EL PIPILA VIEWPOINT/FUNICULAR
The Pipila Monument is a huge statue that seems to watch over the city. You will be able to see El Pipila from almost anywhere in the city center. There is a great view point when you reach the Pipila Monument. In all honesty, you will not pay any attention to the monument once you arrive to the top. The views of the city will take your breath away and make you stare for a while. No worries, just grab a seat and relax. There is also a small rooftop bar with the view if you want a drink.
You can reach the viewpoint by Funicular or by walking up to the monument. The walk is about 15 or 20 minutes and completely FREE. There are stairs that take you all the way up and you can enjoy the views and the cute neighborhoods. If you choose to go by Funicular, you can find it behind the Teatro Juarez. There is a charge of $25 MXN ($1.34 USD) each way.
GO ON A CALLEJONEADA
Did you even visit Guanajuato if you did not participate in a Callejoneada?! A callejoneada is a night event in which a "Estudiantina" (a group of musicians in costumes) will take you around the alleys of Guanajuato singing legendary Mexican songs, telling jokes and drinking… juice. I would consider it a culture tour with a music performance. You will find Estudiantinas offering you tickets to the callejoneadas all over the city. (In fact, they will offer you so many times that by the time you leave Guanajuato you will ask yourself "can they just give me a sticker to show that I already went on a callejoaneada??!!") The Callejoneada was one of the best things we did while in Guanajuato. They have been a tradition since 1962. They normally end at El Callejon Del Beso which is one of the best known alleys. Callejoneadas have an estimated cost of $100-150 MXP ($5.25-$7.88 USD) per person. Just be aware, Callejoneadas are only offered in Spanish.
GET LOST IN COLORFUL ALLEYS
It is easy to get lost in the city of Guanajuato and the thousands of incredible alleys. One minute you are walking straight and all of sudden you took a right, left, another right and wow...you just found the best alley! So you think, until you find the next one. I would definitely suggest taking one day and just walk around town. Do not worry if you have no end place in mind, that is what makes it interesting. Once you are done wandering, ask around for the Callejon Del Beso. This is where the story really starts...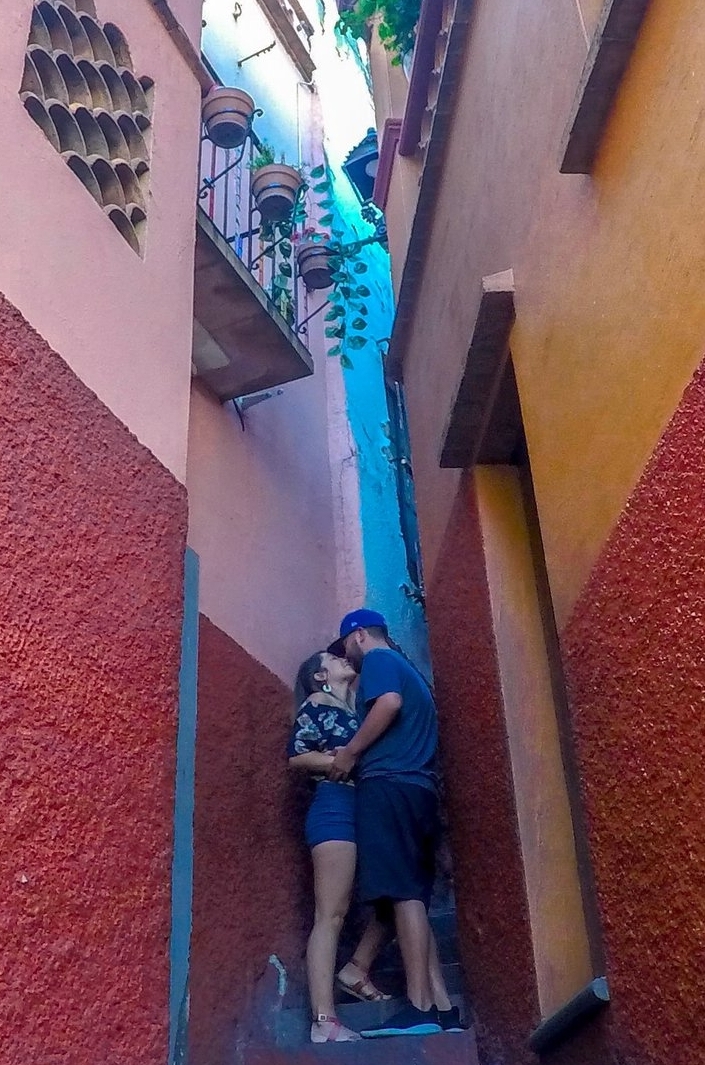 It's like the Mexican Romeo and Juliet...kind of! El Callejon Del Beso (The Alley of the Kiss), is a popular alley in which a love story took place. A young girl fell in love with a poor miner. Once the father found out, he threatened to marry her to a rich old man and kept her from seeing the poor miner. In desperation, the poor miner rented the room in the building directly across from hers so he could still see his love. When the father found out the couple kept seeing each other through the balcony, he approached his daughter and in a fit of rage stabbed her to death. Some say the poor miner was so sad that he threw himself out the balcony to end his life too. The legend says that when 2 lovers pass through El Callejon Del Beso, they must kiss on the third step in order for the love to last forever. So don't forget smooch away!!! TIP: you will normally find long lines of people waiting for their chance to kiss at El Callejon Del Beso. We found the best time to visit was early in the morning around 7-8am to avoid the crowds. There are no fees to visit.
Although the theatre is closed most of the time, you can still pay to go inside and take a look. The inside is beautiful. If you happen to be lucky enough to be able to attend an event, we would highly recommend it since they don't happen all that often. There is a cost of $35 MXN ($1.88USD) to enter and look around.
SHOP AT THE MERCADO HIDALGO
This large Mercado has tons of stalls perfect to buy your souvenirs. It also has a section for food in which you can indulge in the typical foods of Guanajuato like the Enchiladas Mineras.
VISIT THE BASILICA OF OUR LADY OF GUANAJUATO
This church is very hard to miss, with its striking colors of yellow, red detail and it's domed roof. With its Mexican baroque and neoclassic architecture its a real eye candy, sitting in the center of Plaza La Paz.
JARDIN LA UNION
This is a great place to hang around and people watch. The huge green trees provide lots of shade making it a perfect place to grab a bench and cool off the from hot sun. Jardin La Union is located almost directly in front of the Teatro Juarez. You will find Mariachis and Norteños playing in the afternoons and into the night.
UNIVERSIDAD DE GUANAJUATO
Guanajuato is a student town and the University of Guanajuato is one of the prettiest buildings you will find . You will see many locals hanging out on the picturesque stairs or taking pictures with the beautiful views. We even saw a Quinceañera taking her pictures here!
WALK THE UNDERGROUND TUNNELS
Guanajuato is known for its many underground tunnels that at one point served to divert flooding, but are now used to help with traffic in the city center. Many have sidewalks so feel free to explore on foot.
WALK THROUGH THE MANY PLAZAS
Guanajuato has many beautiful plazas for you to enjoy. Some of our favorites are:
Plaza Baratillo:
This plaza is located right behind Jardin De La Union and it is said to be one of the oldest plazas in all of Guanajuato. The best churros we have ever tasted are here! Visit Churrazo for delicious freshly made churros and a cup of coffee.
Plaza San Fernando:
This was by far one of Ricky's favorite spots! We went there 3 days in a row, just for one thing... MicheLitros! This plaza had the MicheLitros for $60MXP ($3.16 USD). Our favorite spot in the plaza was definitely La Oreja de Van Gogh. They had good food and amazing Micheladas for a very good price. They also had the World Cup games during the tournament.
Plaza El Ropero:
In this plaza you will find the statue of the famous Mexican singer and actor Jorge Negrete. The pink house behind the statue is where Jorge Negrete was actually born. Negrete is known for his recording of the unofficial anthem of Mexico, "Mexico Lindo y Querido". A song every Mexican knows all too well.
Plaza De La Paz:
You will more than likely pass through this plaza with out you even knowing it. You can easily see the Basilica, restaurants and a little garden in this plaza. The transvia tours also leave from this plaza.
TRANSVIA CULTURAL TOUR
The Transvia Cultural Tour will take you to the main points of Guanuajuato. We loved that it took us to some places that we were not able to reach by foot like the Paseo de La Presa and Presa de La Olla. At the Presa de La Olla you can rent a row boat and pladdle around the dam. You are not able to get off when on the tour, but if you like the area you can come back later. Another highlight for us was El Palacio Del Dulce. They give you unlimited FREE tastings of typical candies. This cultural tour is perfect for those that want to see the highlights of Guanajuato, but are short on time. You can buy tickets for the Transvia Cultural Tour in Plaza De La Paz near the Basilica. This is also the meeting point for pickup. The ticket is $100 MXP ($5.25 USD) per person.
EXPLORE THE NIGHTLIFE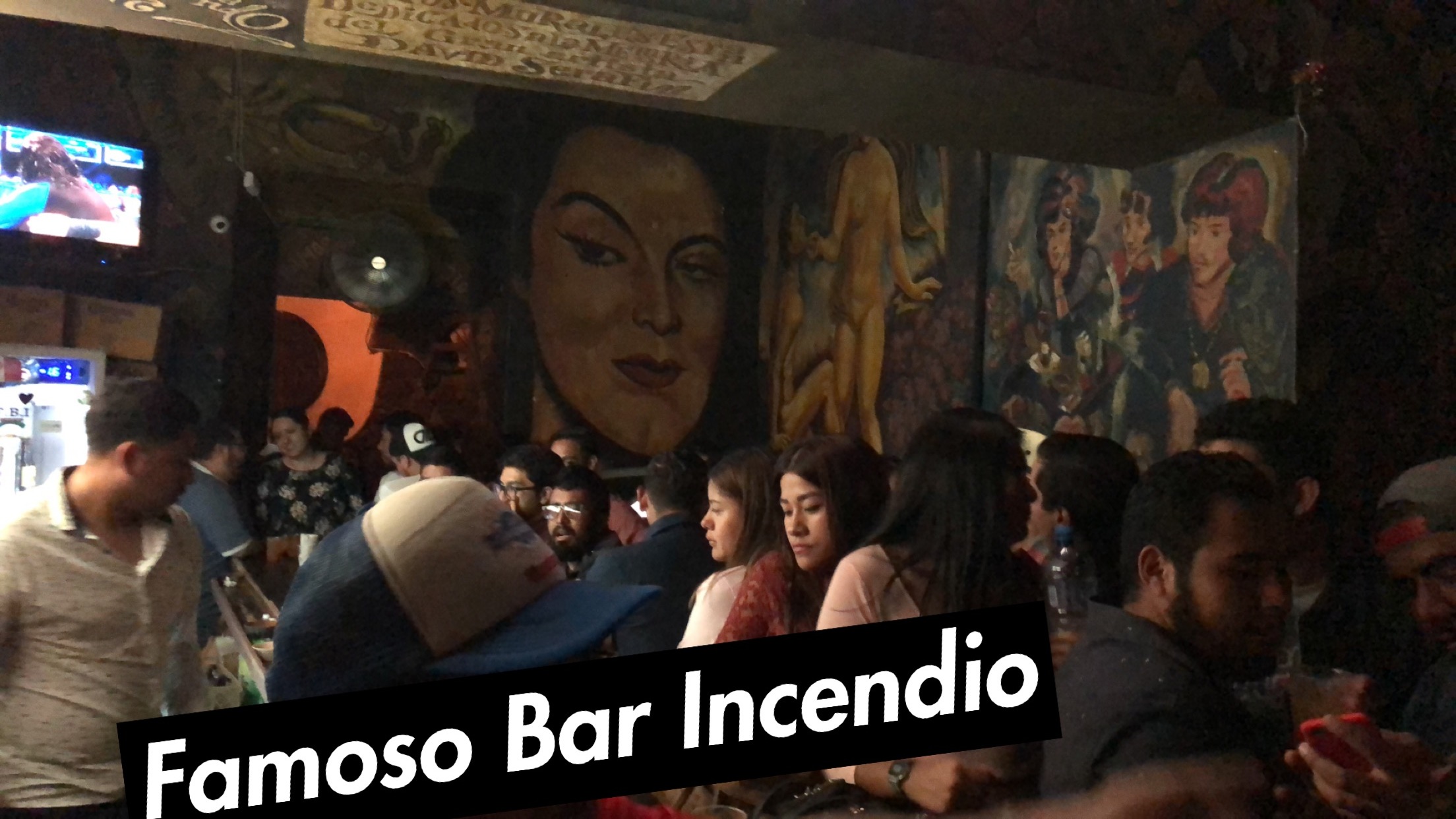 Since Guanajuato is a university town, it has an awesome nightlife. It won't be hard for you to find some great spots. Famoso Bar Incendio (F.B.I.) is popular with students to get the night started. Beers are very inexpensive and they also have a signature drink "preparada" a mix of juices with mezcal and spices. Some additional places to visit are: Oveja Negra, Bar Fly and El Retto.
Guanajuato was by far a top city for us. It gave us more than we expected. If you haven't been we highly recommend you add it to your bucket list!
LANGUAGE:
Spanish
In Guanajuato you will find some locals that speak English.
CURRENCY:
Mexican Peso
Download the XE Currency App to get live exchange rate info anytime, anywhere!
CREDIT CARDS AND BANKS
Cash is best for buying at mercados, street food or small stores as these do not accept credit cards.
ATMs are readily available.
VISA REQUIRED FOR US CITIZENS:
No, if you are staying less than 180 days.
(Make sure to check with your local embassy for visa updates.)
TRANSPORTATION
The easiest way to get to Gunajuato is to fly into one of the 3 nearest airports:
(BJX) Del Bajio Airport, Leon/Guanajuato: The Leon airport is about thirty minutes from Guanajuato. It is by far the most used for people traveling to Guanajuato.
(MEX) Juarez Intl, Mexico City: The Mexico City airport is about four hours from Guanajuato.
(QRO) Queretaro Airport: The Queretaro airport is about two and a half hours away from Guanajuato.
From any of the above airports, there are taxis, shared shuttles and private shuttles available to take you to Guanajuato.
Our preferred mode of transportation in Mexico is by bus. Mexico has an excellent bus system that can easily take you anywhere in the country. Our preferred bus is ETN. They are exceptional for long bus rides since they provide private screens for movies, games or music. They give you a snack/drink and your luggage is guaranteed to be safe. The seats are very comfortable. You can buy your ETN ticket at arrival at the Bus Terminal or online at the ETN website.
SAFETY
Although there are several travel warnings on the U.S. Travel website, I found it quite disappointing that many people are afraid to travel to Mexico due to this. We have traveled through Mexico for 2 months and have felt completely safe. Always keep in mind the advisory, but take it with a grain of salt. Use common sense like you would in any country. We always traveled in bus by day and made sure to steer clear of the roudy neighborhoods.
First time here? Thank you for stopping by! We invite you to join our journey as we immerse ourselves in new cities, cultures, ideas and spontaneous adventure. In this space we show you how we are traveling the world, maintaining a budget and visiting countries and cities that at one point we had only dreamed of. Leaving everything behind to travel the world and indulge in a travelmoon. We are no expert travelers...yet, but we are happy to share all of our tips, tricks and experiences in hopes the information you find here inspires you to buy that plane ticket! We are firm believers that traveling is one of the best investments you can make!